Shopping Cart
Your Cart is Empty
There was an error with PayPal
Click here to try again
Thank you for your business!
You should be receiving an order confirmation from Paypal shortly.
Exit Shopping Cart
Fully licensed Faith-Based Clinical Counseling
Licensed Clinical Professional Counselor (Illinois)
Licensed Professional Counselor (Pennsylvania)
Recently I ran across a 5-step prescription for beating procrastination (Burns, Ten Days to Self-esteem, 1989):
1.       Don't put the cart before the horse.  Instead of waiting for motivation, get started.  Action comes first, and motivation comes second.
2.       Make a specific plan.  Instead of telling yourself you'll get started one of these days, make a specific plan.  Would you like to start today?  At what time?  What will you do first?
3.       Make the job easy (little steps for big feats).  Instead of telling yourself you have to do it all at once, decide to do just 10 or 15 minutes of the task.  Break the task into small steps, and remind yourself that you only have to take the first small step today.
4.       Think positively.  Write down the negative thoughts that make you feel guilty and anxious; substitute others that more positive and realistic.
5.       Give yourself credit. 
On the surface, the process above seems plausible enough.   Upon further examination, however for those desiring a faith-based approach, there are a few important issues left unaddressed.  Here is a revised " faith-based" list of steps to overcoming procrastination:
1.       Pray before even attaching the cart to the horse.  Ask for God's guidance and the ability to discern His will for the situation.  Be willing to have an open heart for whatever the solution might be.  God has three answers:  "Yes", "no", and "not yet".  Most of us have problems with the "no" and the "not yet."
2.       Follow God's plan.  At first, praying and waiting might seem to only add to the procrastination.  A priest once told me, "God is slow."  I was taken aback by such a statement but the more I meditated on it, the more I realized the issue at hand:  God is not bound by time, everything happens as the Word speaks.  Desiring our answers yesterday, our finite small brains have a tendency to measure and magnify each second as we occupy this universe.  But the truth of the matter is that even if we have to wait the duration of our entire life it is but a speck when viewed in the Light of Eternity.
3.       God makes the job easier.  I agree that we do have to take little steps, especially if we are children of God.  A baby doesn't learn to walk by first running.  We can take comfort in knowing that we have a Heavenly Father and Mother who can catch us if we happen to fall along the way.  A big component to why people procrastinate is fear of failure.  If we allow God to come with us on the journey, we don't need to fear failing.  This is what taking a leap of faith is all about.
4.       Think guilt-free.  Are there are any sins obstructing your path?  Remember, there is nothing that a good Confession cannot take care of.  The best way to have an open heart to God's voice is to clean that heart of any junk that may have accumulated.
5.       Give God the credit.  Remember, humility is not putting oneself down.  It is realizing who you are in light of God's creation.  Praise God for whatever the result might be.  In everything do your best with whatever grace is given to you. Be at peace in leaving the outcome to God.  Even if that outcome on the surface appears to be less than optimal.
Surely, I wait for the LORD; who bends down to me and hears my cry… Blessed the man who sets his security in the LORD, who turns not to the arrogant or to those who stray after falsehood.You, yes You, O LORD, my God, have done many wondrous deeds! And in your plans for us there is none to equal you. (Psalms 40:2, 5-6).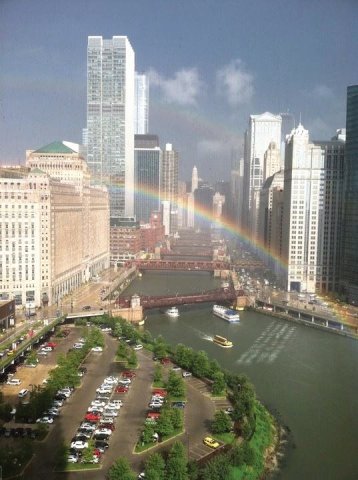 Seizing the Moment
If you have not already noticed, an image of downtown Chicago appears on the "location" tab of this website.  There is a little story behind that picture.  I am fond of it because I took it myself and it was one of those unanticipated occasions to take a really nice picture.  Usually I see something and by the time I am finished fiddling with my camera or I-phone, the window of opportunity has passed, like many of my failed attempts at stealing a picture of my kids or getting my cat to pose. But this time I was successful and was able to seize the moment.
It is only a camera phone image.  It was taken about an hour after I felt my high rise building sway.  An earthquake had hit the east coast in Virginia several hundred miles away.  That afternoon I happened to look out over the river and I saw the beautiful rainbow emerge over the city.  It was there long enough to get my camera phone.
What About Those Shaking Hills?
What a strange series of events!  And isn't that just like life?  Rainbows remind me of God's promises, like after the flood in the Bible.  And as such to me seems interesting that a beautiful rainbow appeared on a day when several hundred miles away the earth had been shaking.
Sacred Scripture Speaks of "shaken hills".
"Though the mountains leave their place and the hills be shaken, My love shall never leave you nor my covenant of peace be shaken, says the Lord, who has mercy on you." (NAB, Isaiah 54:8-10).
God's Promises are True
What a beautiful promise from God and what a great source of Hope.
I know that there are lots of people right now who are struggling with some very serious issues.  In fact difficulties and crises never come at a good time.  But no time is ever a good time.  We are too busy trying to live life to have to stop to deal with a problem.  I know that there are those dealing with cancer, broken relationships, unemployment, addiction, financial hardship and many other things.  But in spite that the "hills be shaken", God's promises hold true. 
I know that no matter what we might be facing, there is a Light that shines in the darkness.  Even now as we are in Fall and soon we approach the dead of Winter, the new life is just around the corner if we can just hold out til Spring.  That is like Hope.
When I see this special image, it makes me say, "God bless my city.  God bless the people within it."  There is hope for all of us.  For some reason, in my heart — I know that God's promises are true.
/