Shopping Cart
Your Cart is Empty
There was an error with PayPal
Click here to try again
Thank you for your business!
You should be receiving an order confirmation from Paypal shortly.
Exit Shopping Cart
Fully licensed Faith-Based Clinical Counseling
Licensed Clinical Professional Counselor (Illinois)
Licensed Professional Counselor (Pennsylvania)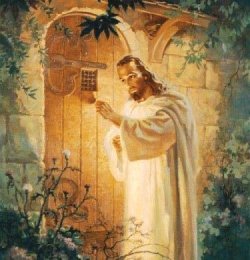 "…They called the church together and reported what God had done with them and how he had opened the door of faith..."(Acts 14:27).
Pope Benedict XVI recently declared a Year of Faith.  This Year of Faith begins October 11, 2012 and runs through November 23, 2013. The beginning marks the 50 anniversary of Vatican II and the 20 anniversary of the Catechism of the Catholic Church.  According to the United States Conference of Catholic Bishops (USCCB), "The upcoming Year of Faith declared by Pope Benedict XVI is a 'summons to an authentic and renewed conversion to the Lord, the One Savior of the world' (Porta fidei 6)."  The Sacred Scripture highlighted for this year is Acts 14:27 which depicts conversion as "opening the door of faith,"  which was opened at one's baptism, and re-opened in the renewing of faith and rediscovery of Christ and His Church.
What does this mean for us? 
Faith is a gift. God knocks at that door and invites us to step through the threshold.  Stepping requires grace. The Year of Faith is a call to live out each and every moment of our lives within the theological virtues of faith, hope, and charity.  It is a call to deepen our relationship with God.  Catholics can be strengthened in this gift through their participation in Sunday Mass and the Sacrament of Reconciliation (Confession).  Of course prayer, fasting and acts of charity also help to obtain grace for the long haul and gives us strength to open the door when He calls.
Jumping into the deep
Most of us at one time or another encounter the need to take leaps of faith in our lives.  There are many situations in which we might find ourselves, like starting a new business, embarking upon a new career, enrolling in college, moving to a new city, welcoming a new baby, getting married, or buying a new home.  Sometimes it takes a leap of faith to make a lifestyle change.  Most life transitions involve leaps of faith.  Sometimes this means giving up things or persons that of which we are accustomed, such as in the case of addictions or weight loss. Usually a big leap is intimidating --but we cannot forget that many little steps can equal a big step.  A child of Christ can only take baby steps.  And babies do have a tendency to stumble from time to time.  But with grace we get back up and learn as we go.
Jesus knocking on the door of our hearts
One of my favorite images is that of Jesus knocking on the door of our heart.  In my own personal journey, I continue to discover what that means at different levels. As a young girl years before I became a Christian, I had a dream of Jesus knocking on the door of my house.  It was difficult for me to open that door.  In fact, I went and hid.  But what was amazing is that Jesus opened that door for me.  I continue to wonder at what God can do, not only for me, but for each one of us.The Year of Faith is an opportunity for all of us to meditate on growing deeper in faith and closer to God and His Church.  It is a call to take that step and open the door.  If we are unable, He is willing to help us get to where we need to go. We need only to ask and take that leap. 
/